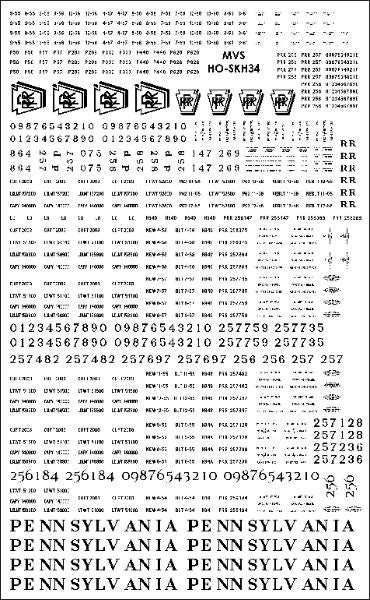 HO PRR H34 Shadow Keystone Covered Hopper Decals
---
This set was produced to introduce an more comprehensive set for these classes.

After spending over 20 years in the development of progressively better covered hopper designs, following the copying of an ACF 2-bay design in the H33, the PRR decided to contract Pullam-Standard to build 300 of their own version of a 2-bay covered hoppers, their PS-2 in April 1954.

Following the initial success of the design, the PRR built on its own, or had Pullman-Standard build additional batches through to 1958 so that in total, the fleet numbered 1900 cars. Various design changes throughout the build life include re-spaced roof hatches, side ladders additions and the replacement of ribs over the bolsters from channels to a U-rib. All of these classes were used extensively across the system through to the creation of Penn Central, with some even lasting in this scheme into Conrail.

This sheet includes lettering for the H34 in their 1954-1960 Shadow Keystone scheme before they were repainted in the Plain Keystone scheme. It can do a total of 4 cars, 2 each in the "big" Keystone and 2 each in the "little" Keystone schemes, specific classes included are as follows Big: 1 H34, 2 H34a, 2 H34b, and 2 H34c. Little: 2 H34c and 2 H34d.  Additionally, car specific builder stencils are included. See the diagram for proper placement. There are six different reweigh/repack dates cover locations system wide.

The H34 classes have been done in various forms in various details by MDC/Roundhouse, Atlas, and Kadee.  Some kit bashing will result in more accurate versions of the H34 classes. An example would be the straight H34, which has never been produced due to its uniquely spaced roof hatches.

For painting instructions any of these covered hopper cars in the Shadow Keystone scheme (1954-1960) the entire car, including underbody is to be painted gray, trucks are painted black.
For references in regard to the PRR's H34 Covered Hopper Car  fleet please consult Pennsylvania Railroad Compendium Vol. 1,  PRR Freight Car Lettering Arrangements 1954-1968 by Middle Division and Volumes 1-3 of the PRR Color Guide.
---
Share this Product
---
More from this collection