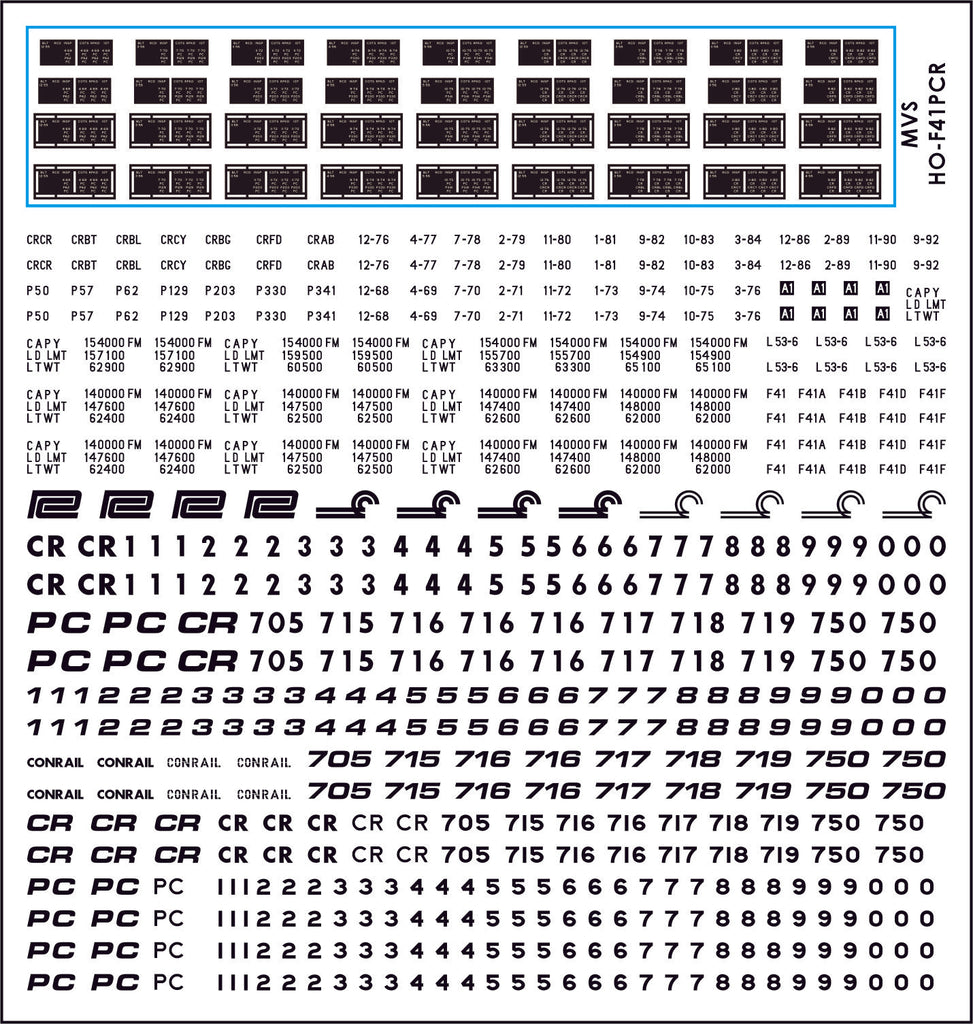 HO Penn Central & Conrail F41 Flatcar Decals
---
The PRR started building the F41 class of flatcars between
December 1955 and May 1956 and they were the first post-war 50
foot flatcar for the railroad. They utilized integral cast steel
underframes by General Steel Castings (GSC). The F41 flatcars
cars had a 70 ton capacity and measured 53'6" long over end sills.

The F41 was a unique design amongst other 53'6" flatcars
in how the bolster and deck were exposed on the deck, which also
varied between classes. Between August and December 1959 an
additional 300 cars designated as F41B were built. Finally, an
additional fifty cars were built in April 1962. The F41A flatcar class
were F41 class flatcars modified with bulkheads. The entire fleet
totaled 1,050 cars. The entirety of the fleet last into Penn Central,
with many cars retaining as-built lettering into Conrail.

This sheet has enough data to do 4 cars, data allowances are
for 2 F41 class, 2 F41A class, 2 F41B class, 2 F41D class, and 2
F41F class. There are twelve different reweigh locations and
twenty-two different reweigh dates. There are also appropriate lube
stencils included. For those that need wheel inspection dots, I
recommend the ones made by Highball Graphics. Modelers wishing
to apply ACI Bar Code Plates, we recommend using the Microscale
Products Minical MC-4280. The F41, F41B, F41D flatcars have
been produced as a 3D printed kit by Plate C Model Prototypes.

Painting instructions for any of these flatcars; for Penn
Central era cars, they car body could be PRR Freight Car color of
PC Deepwater Green; for Conrail era, cars could be PC Deepwater
Green or Conrail Oxide Red. The trucks are black.

For references in regard to the PRR's F41 Flatcar fleet
please consult Pennsylvania Railroad Flatcars, Revenue & Work
Equipment, 1869 to 1968 by Al Buchan and Elden Gatwood
published by the PRRT&HS. Picture references can be found in the
Penn Central and Conrail Color Guides published by Morning Sun
Books. Online resources include Fallen Flags: rr-falenflags.org
RRPicture Archives: rrpicturearchives.net / RailcarPhotos.com
Also, the Conrail Historical Society has an online photo archive:
conrailphotos.thecrhs.org.

A thank you for assistance in creating this set is extended to
Adam Chilcote, owner of Plate C Model Prototypes for providing
side profiles of his 3D printed car kits to make lettering diagrams
easier to create.
Decal sheet is shown as black lettering on a white background for clarity. Actual decals are white for application to a painted model.
---
Share this Product
---
More from this collection